We're proud to support The Openwork Foundation*, which provides charitable grants in the UK and overseas through its fundraising and grants programme. As a business, we regularly donate each month to the foundation.
The Openwork Foundation has broadened its focus to support vulnerable and disadvantaged adults as well as children, meaning we can help even more people in our communities, from the very young to those in their later years.
Amongst other things, they have helped charities build a school in Manila for children living on the dump sites, funded adventure playgrounds for disabled children, helped purchase medical and mobility equipment for people of all ages, built hydrotherapy pools and conversions in children's hospices and paid for specially adapted minibuses and salaries for specialist staff. 
They have done this by taking part in everything from overseas cycle challenges to marathons; charity golf days and curry nights. The funds raised are distributed in the form of grants to national, local and overseas projects, nominated by the advisers and staff of Openwork. In addition the Openwork Foundation provides discretionary grants for disadvantaged people and works in partnership with Carers Trust, supporting its Young Carers services.
2013:
A team of 4 from JSC Financial took part in the London Nightrider event in June 2013 and raised just under £2000 towards the Openwork Foundation and cares4kids.
Pictured opposite from left to right are: Paul Johnson - Director - JSC Financial, Ashley Farthing (client and friend of Paul's), Stuart Millard, (previous consultant at JSC and Paul's friend) and Richard Savage (client and Melanie Johnson's brother). Pictured bottom right is Paul riding through Tower Bridge just before sunrise, 2/3's into the ride.
The team completed a 100km ride through some of the capital's many sites, riding through the night and finishing in the early hours of the morning.
2014:
We previously took part in and sponsored The Heart of England Bike ride  in July 2014, a team of 3 representing JSC Financial set off from Packwood House, Lapworth, Solihull on a 50km ride with only one puncture along the route, 7 miles out from the finish line. We raised funds this time for the British Heart Foundation. 
2016:
We were one of the sponsors of the Knowle and Dorridge Lions Club Festive Christmas Walk. A group of 6 of us joined many other walkers on the day for mulled wine and mince pies at the end of a lovely Winter Walk in and around the Warwickshire countryside.
2017:
We were one of the sponsors of Claverdon Village Fete in June, raising funds for the village sports pavilion to be rebuilt and funds to be used in and around the Village for various community projects.
We are once again one of the sponsors for the British Heart Foundation Heart of England Cycle Ride event and are increasing the ride in 2017 to 60 miles with a team of 5 representing JSC Financial on Sunday 16th July 2017, setting off from Packwood House again. At Christmas this year we are one of the sponsors of the Knowle and Dorridge Lions Festive Walk on 27th December starting at Baddesley Clinton National Trust property B93 0DQ, why not come along and join us to walk off the festive food we will have all consumed over previous few days.  Festive Walk 2017 - Fundraiser
Paul Johnson took on his biggest cycling challenge so far, in late October 2017, he joined a team of 28 other Openwork Foundation Fundraisers and ventured off to Kerela in Southern India to cycle over 350km in 5 days, the heat was a steamy 31 degrees and the hills were more like mountains. All in aid of the Openwork Foundation. Paul raised just over 4700, with the combined team effort raising over £100,000 
* The Foundation was launched in 1981 to support disadvantaged people in the UK and overseas and has donated over £20.5m during this time. It is funded and supported by you, the staff, Partners and Financial Advisers of Openwork and the Openwork Group across the UK. The Openwork Foundation, Registered Number: 1184592
2020 - AN EXCITING NEW START
2020 is an exciting milestone year for the Openwork Foundation as we separate from The Zurich Community Trust and become an independently registered charity in our own right.
To find out more or to make a donation, please contact Paul or Melanie Johnson at our offices.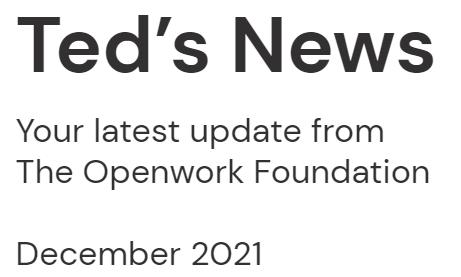 We are delighted to share Issue 2 of Ted's News. In this issue you can find out much more about the wonderful work of our new charity partners – Cruse Bereavement Support and Dementia UK. Ian Lovett, our Chair, shares memories of the last 40 years, and you'll also see the real difference your donations are making under the Grants section. 2021 marked 40 years of The Foundation being part of our business and community and so many of you have gone the extra mile during this special year to get involved. We are very proud to share some of the fantastic fundraising activities you have been taking on to celebrate this milestone.